↑
PORTABLY
Clever
sustainable
pointed
personal
sensual
Does this sound familiar?
You open your closet
– and –
nothing fits.
With your PORTABLYs you allow yourself to be and show yourself in every mood, authentic, a living work of art with attitude.
Do you want to be a statement for values in a society where they seem to be disintegrating.
PORTABLY respects our resources.
Textiles, from their production to their disposal, are the second biggest environmental problem on our planet. Nevertheless, everyone wants a new attire again and again, to feel comfortable and beautiful.
PORTABLY uses 95% recyclable materials.
PORTABLY honours our grandmothers, who made these pieces themselves or wore them with pride, by accepting their message and bringing it into this day and age for you.
One man's trash is another man's treasure.
For centuries, people expressed belonging through their clothing and transported individual messages via their second skin. The fashion UNI put an end to that. PORTABLY makes it possible again.
Don't you, with your story, your way of thinking and loving make yourself a very special work of art?
Tell us about it, wear your story on your skin.
Feel good the way you are!
Be as beautiful as only you can be!
HOW TO GET YOUR PORTABLY
Contact me (click "Contact" in the menu) and tell me what you're looking for: artwear for a special event, something to represent yourself, a second skin to feel great in, or if you simply want to wear a PORTABLY.
You come by, look around and try out what suits you and what you like. I listen to you in depth, ask questions, see you, begin to understand you.
You borrow a PORTABLY, or you place an order for your individual work of art by making a down payment. I'll look around my storage to find what's suitable.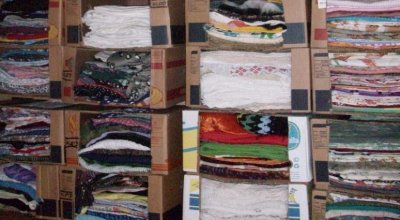 I coordinate the colour scheme with you. As soon as you like something, I develop it on the dressmaker's dummy and through its shape I orchestrate your unique body and your story, calm, wild, brave, loving, sexy, funny, elegant,…
After I worked on it for 30-40 hours, you come by to try on your collage of fabric and about 10 hours later, your work of art is ready.
We photograph you with it on, and you can go ahead and dress in it and delight whoever gets to see it.
Why should canvas be more apt than your skin to wear a work of art?
THE TEAM
A job is completed successfully, when I have delivered the quality that makes the customer's face gleam with happiness. If, in addition, colleagues are inspired by me and want to create something new together with me, I am really satisfied.
When the designer icon La Hong admired my jeans ball gown and my tie dress and encouraged me to create more PORTABLYs, I started to envision PORTABLY for customers as well. Campina CDW, friends and models have, without any input from me, understood the history of each individual piece of art simply by trying it on. Because the great TrueYou, Verdandy and Roee have approached me and asked about the designer of my creations, because Chantal Donvide and I want to start social welfare projects together, because Werner Boote and Johann Rumpf congratulated me on the project, because the hair stylist Keti Berisha and Barbara Alli are convinced that the shawl coat and other pieces belong on the catwalk in Berlin, because the milliner and artist Susanne Dullinger envisions me at the Fashion Show in New York, because Regina Szalay and May Britt Alróe-Fischer from the Modepalast don't call me a designer, but an artist and because Karl and Alexandra Löff provide me the presentation room Kunstmesse International Art View Vienna, PORTABLY is here for you now as well!
Archie Burnett, you powerfully beautiful, innovative Voguing dancer from New York, and the tango dancer Nastasja Sas, you shine brightly in PORTABLYs like a couple of other very special people, and you profess to be works of art!
PORTABLY is still an insider's tip,
Mass production will never happen.
Go for it! Now!
Dear Susi Illedits, I thank you for your profound friendship and mentoring; the same goes for Karin Michalek, Heidi Wech, Birgit and Martin Klausser, Werner Schauer, Sven Schauer, Franz Peinsipp, Rudolf Schar, Li Na and many more.
I want to express endless gratitude to you, all the top-notch photographers and videographers who are working so professionally for PORTABLY.
chris-waikiki.com, camwork.at, ivanlukacicphotography.com, arndoetting.com, maisblau.com, adrianalmasan.com, kubiza.smugmug.com, pixelcoma.at, grafikagentur-wien.at, 500px.com/lichtschwarz, facebook.com/robert.hailwax, xing.com/profile/Stefan_Matzhold
Thanks to a every beautiful woman and every gorgeous man, to my friends from all over the world who are modelling in PORTABLYs, full of joy and commitment!
johannamucha.at, karinmichalek.at, nadjano.com, facebook.com/ToniSilverModel/, facebook.com/vandaduck, facebook.com/ingerle?ref=br_rs, instagram.com/mmaslenjak_, secret-garden-fitness.com/lela-personal-trainer, facebook.com/karo.hammer.5, facebook.com/Irene.Czermak, facebook.com/yun.wang.3348?ref=br_rs, facebook.com/marija.marjanovic.37, facebook.com/eva.gruber.779, facebook.com/peinsipp.franz, instagram.com/luisharmer/?hl=de, Ly Ngnyen, Sonja Gebhart, Alycia Thomas, Katherina Keuenhof, Claudia und Werner Schauer
Thanks to the young people, my three charming girls, Ina and Carla, who support me as interns and especially to Ulrike Noth who set up this homepage so perfectly, with a big heart and good cheer.
Thank you, Christian Schlaghuber! You've been poring over PORTABLY with me since 2017!
Thank you, my clever, attentive, constructive son Joachim! You always actively support me when I ask for it!
I THINK WE'RE A PRETTY AWESOME TEAM!
LOVE YOU ALL!
Gemeinsam schaffen wir mit PORTABLY Freude, politische, integrative Statements, machen Identitäten sichtbar, kolorieren das Triste und feiern die Schönheit und das Leben!
| | |
| --- | --- |
| G | Geschichten: tells stories and puts them in a nutshell |
| E | Erkenntnis: insight arises from deep engagement with a topic, a situation, a customer's request- |
| R | a ROSE is a ROSE is a ROSE is a ROSE is a ROSE |
| DA | Danke- thank you and |
| JA | YES are the words that I like to carry within myself. I let go of all other thoughts and feelings. |
| N | Neugierig: Inquisitively I like to surprise myself, marvel at you and your life story and enjoy people's diversity. "My "I" is created by YOU. |
| SKY | As wide as the sky are my possibilities to create a work of art for you and with you. |
Since 2013 www.diepartnerschaft.at Coaching and mediation for couples who want to be accompanied during a solid start or a decisive step in their relationship.
Since 2010 www.dieantwort.org the self-help guide for times when life's questions arise, and through the maze of psychotherapy.

1966
in Pöchlarn as an ooops-a-daisy I caught sight of my Mum's pretty face, Grandpa cuddles me, Daddy proudly shows me off to the world and uses me for himself.
1973
I accusingly stick out my tongue to my beloved teacher. She insists that the circles drawn on the blackboard are cookies. She is not supposed to lie, is she?
1975
I can't help my appearance. Adults think I'm cute. I think children are rather annoyed. I ask too many questions.
1976
Reading is adventure in one's mind. I am Winnetou.
1977
I find Kiss amazing. Shortly after that, Bowie's intelligence, Prince's competence and Hagen's intensity become my life.
1978
I get to craft and paint with Grandad. Grandma gives me my first PFAFF sewing machine that waits patiently for PORTABLY's birth in 2016
1979
Abbot Burkhard Ellegast has two stickers on his door. One of Kreisky as a Native American, smoking the calumet and another one a knotted up tank: Sometime they'll give a war and nobody will come! Christian Zitt, my art master has brains and a big heart. I see, that's what men can be like.
1980
I meet the love of my life. 4 years of celebrating sacred sensuality. I see, that's what a relationship can be like. We dance rock&roll
1981
Mediumistic abilities don't allow me to turn from an altruist to an egotist. Contact Dance. The female way of mediation. The spirit decides between "It's possible" and "it's impossible" I self-experiment and draw self-worth from it.
1982
Daddy wants to turn me into a statutory woman. I decline, Brigitte Ederer takes my place. I want to be respected because of my skills. Patronage is ugh. Sometimes, regret takes over. Too many opportunities not seized.
1983
Fun is to be had with a car and a motorbike, social status comes with it. I give everybody a ride home and transport people all across Europe. Wheels rolling and flying, getting to know people and cultures from every nation.
1984
Actually, I want to be an artist, but I'm a good daughter. I like children. At the teacher training college in Krems I meet Gabi and Claudia. Gabi's life was snuffed out in 2013. We keep dancing in the other world.
1985
I find myself in a tiny treehouse in Vienna's 10th district as a passionate primary school teacher who, along with ten others, passed the entrance exam for art education and handicrafts at the university of applied arts.
1986
First exhibition at the Galeria d'arte behind the cathedral of Milan.
1987
Like leprechauns and angels, many mess around with and within me. The ecumenical Christians, the Buddhists, the Muslims, the Reiki practitioners, the clairvoyants, the reincarnation types, the Biodinamic experts, the Tantra masters, the Sannyasins, The Antroposophists, the positive-thinking-people, the Human Designs, the astrologists, the Voodoos and the Shamans. I'm an expert in everything out-of-body and mediumistic and initiated in almost every philosophy; I never asked for any this. Still, I remain pretty free of any ego to speak of, but I'm learning different ways to serve. Many years of /group/individual/body/art therapy, meditation and self-reflection is not being accepted as training in psychotherapy by Austria, the control state; too long ago, wrong institution. Meanwhile, I follow Luhmann: " I don´t draw a distinction so I don´t bring a new world into being and breathe in the eye of the hurricane."
1991
I get to enjoy the most light-hearted six months of my life in a relationship with a charming young man. Fittingly, it results in the birth of Joachim Nicolai, the child of love.
1992
I have received the most precious gift in my life. After many hours of giving birth, this little mite's gaze gets lost in my eyes. Ever since then, Akim enriches my being. I'm a single mother. A career path and making money are taking their long-lasting leave from my life. I'm home a lot. In between brief moments of loneliness, there's infinite love and joy for being able to guide my child through life. It finally makes sense to be.
1994
Claus Kaul, an icon of the Montessori movement, allows me to understand. While working as a teacher at a primary school, a lower secondary school, a special needs school, an adult education center and a grammar school I realise that the rot starts at the top.
One night, an approach to schooling and education flows from my mind and my hand to paper. University professors, the Erwin Ringel Foundation, large-scale manufacturers, CEOs and investors are on board. The only thing lacking is the last little bit of financing.
Five pregnancies unfortunately don't give me another child, but I get to become the master of my mental states.
Continuing education to become an ICF-coach, a teaching trainer, a life coach and social counsellor, a business consultant, a mediator; I acquire my ECDL certificate. I'm using all of this and much more when working with my clients. The project- oriented periods of self-employment become shorter and shorter, the bosses are usually not happy with a success rate of 95%. A brilliant colleague phrases it like this: " You are an artist and that's why you work with people. We're only supposed to manage them though, that's why you don't fit in here."
Through my work as a constellation leader I start to understand that everybody's life is just as hard as the person can bear. I'm defraying the cost of living by walking in Wallraff's shoes, I do some landscaping, I clean, tutor, give massages.
Akim is a fantastic travel companion. In Cyprus, Hawaii, Cuba, Austria, Costa Rica, Uganda, Tansania and Egypt we meet the poorest of the poor, landscapes and cultures. Across the hills on horseback, on the flying fox zipline 30 metres above the ground, with the whales through the jungle, making friends with mimicry. Snakes and baobabs, settling in clay buildings, on willows and in towers, we're being led by our mindfulness and impulse. We're welcome everywhere.
In the land of my beloved sister Sobonfu I FINALLY get to find out that I'm not crazy when it comes to my idea of society. The WE is above the I. THANK YOU, Sobonfu. You lead me out of the Otherworld.
Meanwhile, Joachim is leaving his footprints in the sand. I've often sent him off by saying. "Walk in beauty", and that's what he does, him, who by now also makes others beside me beam.
I made to my roots. I am what "the Good Lord" has intended me to be. I'm aware of the gifts that I bring to the world, simply by being and living. This is a different concept of EGO, a harmonious one. Now.
I'm an artist, mindful and awake. Daher breiten sich mir die Themen und die Menschen.(?) I am the response, as in I'm aware of and seize my RESPONSibility. I immerse myself in the issues that are relevant to the people I meet and I turn them into something substantial, with the YES, with the THANK YOU and with the love for my client's beauty.
THE FUTURE DREAMS PORTABLY!